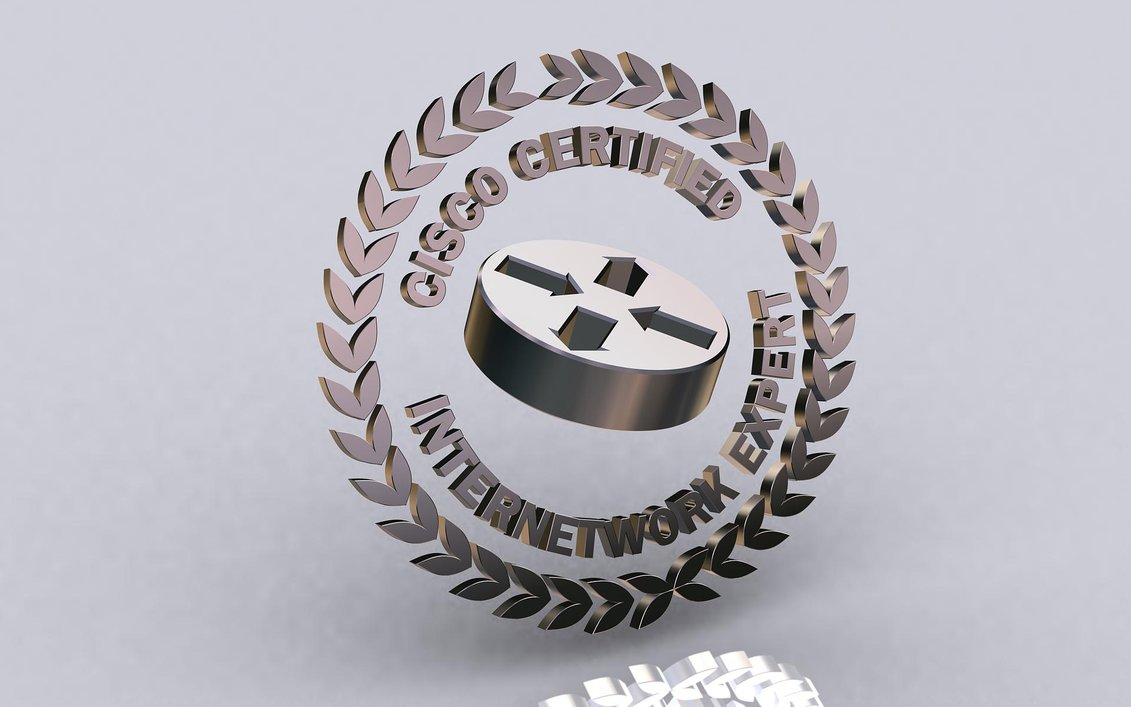 CCIE R/S v5: Everything's Gonna be Alright
CCIE R/S v5: Everything's Gonna be Alright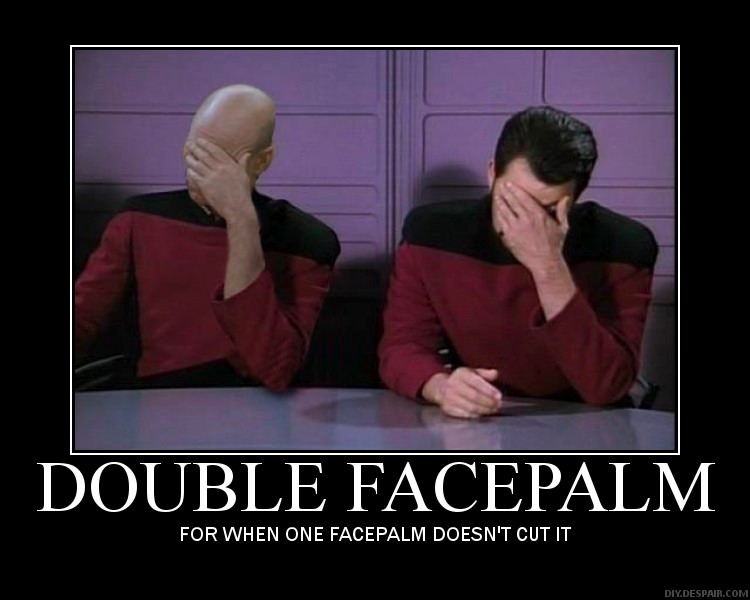 It's been roughly five months since I passed the v4 CCIE R/S and I'm starting to hear potential CCIE R/S candidates freaking out about the upcoming changes. I know this feeling all too well, because like many of you I started on v3 and passed on v4. I will never sugar coat this, it's a royal pain in the arse when the blueprint gets revised, especially if you have been studying (really studying) the current blueprint. That being said, I generally love what I see with the v5 blueprint and believe it's best for the program to evolve and stay relevant. Let's take a look at these changes and I'll do my best to summarize what I know so far.
Six main pillars for written and lab.
1.0: Network Principles
2.0: L2 Technologies
3.0: L3 Technologies
4.0: VPN Technologies
5.0: Infrastructure Security
6.0: Infrastructure Services
Why do I like this? Well they really just consolidated the 11 topics from v4. Since we are not only dealing with MPLS VPN, but also IPSEC VPN/DMVPN it makes sense to group these together under "VPN technologies". IPv4/IPv6/L3 multicast/routing protocols are now grouped under "L3 Technologies" and "Network Principles" is really only applicable to the written (in the "real world" this is a prerequisite) and completely new to the blueprint. "Infrastructure Security" will cover technologies such as router and switch security features, but also PKI/crypto. Finally, "Infrastructure Services". Expect things like management, QoS, services, optimization, etc here. I would imagine since they are moving LAN QoS OFF the lab and into the written, things like SRR/WRR/RSVP are GONE. Thank goodness!!!
Not so bad right? Well let's talk more about what was taken off the written and lab.
Topics Removed from the CCIE RS v4.0 Exam:
• Flexlink, ISL, Layer 2 Protocol Tunneling
• Frame-Relay (LFI, FR Traffic Shaping)
• WCCP
• IOS Firewall and IPS
• RITE, RMON
• RGMP
• RSVP QoS, WRR/SRR
If your like me your excited to see things like WCCP, IOS FW, and RSVP go bye bye. I did scratch my head on one of those subjects perhaps it's because I spent so much time on the technology, Frame Relay. The only reason I say this is because many carriers are still using frame relay as the encapsulation for MPLS VPN solutions on TDM transport. This is going away, but it's still out there in production just at a much lesser degree then 5-10 years ago. Still, I'm sure many are happy to see my good old friend Frame Relay put out to pasture.
Let's continue with the subjects moved to the written, but removed from the lab.
Topics Moved from the CCIE RS v4.0 Lab exam to the CCIE RS v5.0 Written Exam:
• Describe IPv6 Multicast
• Describe RIPv6 (RIPng)
• Describe IPv6 Tunneling Techniques
• Describe Device Security using IOS AAA with TACACS+ and RADIUS
• Describe 802.1x
• Describe Layer 2 QoS
• Identify Performance Routing (PfR)
Oh man, there are so many on this list that I'm happy to see go to the written. Where do I begin… PfR!
PfR could be an exam of it's own. If you don't believe me go and configure a complex policy with multiple probes and get back to me with a verdict. Very happy to see 802.1x and v6 multicast move to the written as well. I kind of liked the ipv6 tunneling stuff on the lab, but that's just me. GOODBYE RIPng, sorry nobody ever used you.
Now the fun begins. Here are topics that were added to the written, but not in the lab,
Topics Added to the CCIE Routing and Switching v5.0 Written Exam:
• Describe basic software architecture differences between IOS and IOS XE
• Identify Cisco Express Forwarding Concepts
• Explain General Network Challenges
• Explain IP, TCP and UDP Operations
• Describe Chassis Virtualization and Aggregation Technologies
• Explain PIM Snooping
• Describe WAN Rate-based Ethernet Circuits
• Describe BGP Fast Convergence Features
• ISIS (for IPv4 and IPv6)
• Describe Basic Layer 2 VPN – Wireline
• Describe Basic L2VPN – LAN Services
• Describe GET VPN
• Describe IPv6 Network Address Translation
ISIS? OK, so FabricPath and OTV leverage ISIS under the covers, but really adding it back to the written? Poor ISIS, your hot then your not, then your hot again. One word comes to my mind "pong".
I like the IOS vs IOS XE, PIM snooping, switch virtualization, BDF/BGP, and CEF topics. GET VPN? Well, I guess someone is using this out there for it to be put on the written exam. Overall these additions to the written seem to allow Cisco to vet out candidates for the lab a little better and bring the curriculum a little more current.
"The decisions regarding which topics should be added, moved or retired were based on feedback received from key industry Subject Matter Experts (SME). These decisions reflect the evolution of the expectations of a candidate performing on the job role."
I will agree with that quote. It's from the learning@cisco exam update for v5.
Topics Added to the CCIE Routing and Switching v5.0 Written and Lab Exams:
• Use IOS Troubleshooting Tools
• Apply Troubleshooting Methodologies
• Interpret Packet Capture
• Implement and Troubleshoot Bidirectional Forwarding Detection
• Implement EIGRP (multi-address) Named Mode
• Implement, Troubleshoot and Optimize EIGRP and OSPF Convergence and Scalability
• Implement and Troubleshoot DMVPN (single hub)
• Implement and Troubleshoot IPsec with pre-shared key
• Implement and Troubleshoot IPv6 First Hop Security
Alright here is where things start to get interesting. For the most part these subjects make sense and don't seem "crazy". But, things like IPsec/DMVPN and IPv6 First Hop Security are going to raise some eyebrows. I cannot agree more with putting in DMVPN/IPSEC. For one thing it's relevant and in almost all my clients networks. Second with Cisco pitching iWAN as transport independent (DMVPN), intelligent path control (PfR), optimizing (WAAS), and security (CWS) you can see where this is going.
Having expert level knowledge in VPN, BDF/BGP, troubleshooting, and packet capture interpretation is only going to make you a better engineer in the long run.
Finally, and I saved the best for last. The format of the lab. Please don't shoot the messenger, but keep in mind that the CCIE is the most prestigious certification in our industry. It's the top of the summit, the best of the best, unrivaled, CCIE is the #1. https://www.youtube.com/watch?v=B-7foxHfhE4
In order to maintain that level of prestige the certification program for CCIE has to continue to evolve and mature. I remember thinking of quitting when v3 changed to v4, but then I pressed on and I'm so happy that I did because it was the hardest I have done from an education perspective, but it's also the most rewarding.
OK, enough stalling. Here is the skinny. The lab format will consists of the following modules.
1: Troubleshooting (TS)
2: Diagnostic (DIAG)
3: Configuration (CFG)
CFG and TS are using virtual devices (IOU). This is nothing new for v4 TS, but for CFG this is new. The content delivery system will be similar to the web-based system for v4. My thoughts are that since the v4 TS supported large topologies, you may see this on v5 CFG now. More realistic, but also more overwhelming in my opinion. DIAG has no devices and I'll get more into this later.
Here is the flow: TS(2hrs/variable) > DIAG (30 min/fixed) > CFG (5.5 hours/variable)
Now here is the cool part. Your TS section will allow up to 2.5 hours, but the extra 30 minutes will be deducted from the CFG section. If you spend less time on TS, you get that time in CFG. Pretty awesome as I always needed more time on TS myself.

Let's talk turkey on this DIAG section as I'm sure many of you are curious like I was. "No devices" what gives man?
From Cisco directly…
"A new exam module called "diagnostic module" has been added and will focus on the skills required to properly diagnose network issues. The time for this new lab module is fixed to 30 minutes, no more or no less."
Use this link for all the details on the DIAG module, but here is my summary. It's a multiple-choice (drag and drop as well) section that will test your troubleshooting and analytic skills. It's not open-ended questions (praise the Lord!!!), so there will be the "RIGHT" answers. Perhaps this is CEQ vs. OEQ on v4.
I'm not going to embellish here, this would be my biggest point of contention if I was taking the v5 lab for the same reasons I had with OEQ on v4. They are already testing you on theory (written) and troubleshooting (TS section), is this really necessary as it will be weighted on the overall grade. If you do terrible on this section, but passed TS and CFG you will not pass the lab. It's extra stress that I don't feel is necessary. Just my 2c that's all. All that said, just like when I took the v4 and it had OEQ, you want to be the best? SUCK IT UP and DO IT!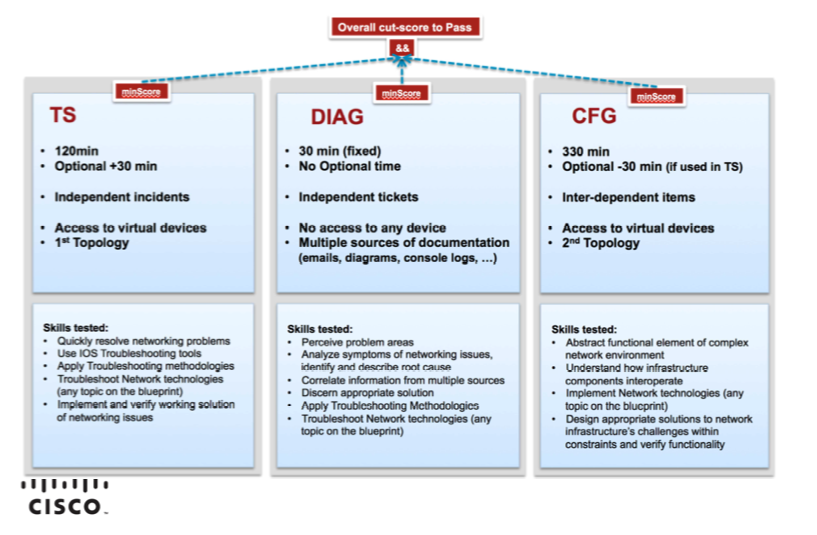 Were almost at the home stretch. Let me summarize a few key things here.
The exam should be the ROUTING and switching exam because clearly L2 technologies are not as prevalent as L3. Perhaps moving CFG to IOU has something to do with it, but it's clear that your going to want to really study up on L3 this time around. It's nice from a focus perspective. Here is the breakdown which is awesome.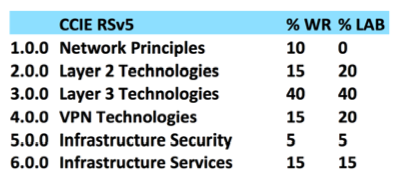 Exam Number: The exam number has changed from 350-001 to 400-101 and the written format is the same as v4.
Lab Gear: The recommendation for lab gear is ISR G2 2900 w/ 15.3T and 3560x with 15.0SE (IP Services). I don't have a handle on how many are required. I think this may be a challenge because they are able to create large CFG topologies in IOU. Perhaps VIRL when it comes out.
Lab Dates: The CCIE Routing and Switching (R&S) Written and Lab exams are being revised from v4.0 to v5.0. The last day to test for both the Written and Lab v4.0 exams will be June 3, 2014. The CCIE R&S Written and Lab exams v5.0 will be available for testing on June 4, 2014.
Words of Encouragement: Sure things have changed and some of these changes are overwhelming right now, but I love the fact that routing is back in vogue and they removed some of the older "noise" from the exams. I never agreed with PfR on the CFG section and absolutely hated ZBF on v4 lab. GOOD RIDDANCE! INE and IPexpert already seemed to have good materiel in the works for v5 and #CLUS 2014 will have some practice labs for v5. Obtaining the CCIE is and always will be the pinnacle of my career certification goals. While the road was challenging and a little bumpy, I would not have it any other way. In fact, I'm gearing up for #2 with Data Center later this year.
If it was easy, everyone would be a CCIE. Just keep that in mind as you embark on your own journey and NEVER GIVE UP!
I leave you with a song I think was made for CCIE's in training. ENJOY!
"It's gonna take time, a whole lot of precious time, it's going to take patience and time to do it right child."
"It's gonna take money, a whole lot of spending money, it's going to take plenty of money, to do it right"
"And this time I know it's for real, The feelings that I feel, I know if I put my mind to it, I know that I really can do it"
-George Harrison
Song: I got my mind set on you 
Man, that song was really made for CCIE candidates!